5 tags
5 tags
5 tags
3 tags
5 tags
8 tags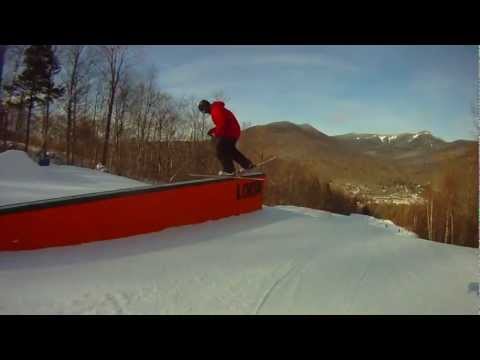 3 tags
9 tags
Weekend Road Trip
Well sadly enough, my winter season has officially come to an end.  This past weekend, Justin Lupone, Matt Blunt and myself embarked on a three day road trip to attend closing weekend at Sunday River and Sugar Loaf.  We arrived at Sunday River on Friday morning only to find perfect spring skiing conditions accompanied by blue bird sky.  Once 4pm rolled around we drove down the street to session...
4 tags
April!
For the past two months, ski resorts in New England have been closing left and right. Luckily Boyne Resorts's Loon Mountain and Sunday River took full advantage of the cold temperatures by making snow two weeks ago. Ever since Cranmore Mountain closed for the season on March 25, I have had a blast skiing Loon.  Unfortunately, Loon closed their park this past weekend, leaving Sunday River as...
3 tags
Urban Struggle
Three weeks ago the majority of New England was blessed with a snow storm. Durham accumulated a solid six to seven inches.  The storm started on a Wednesday night, snowing through Thursday which naturally resulted in classes being canceled.  Sadly just about all my friends at UNH were not interested in hitting rails, leaving Matt Blunt and I on a duo mission.   We were able to hit two different...
4 tags
Busy Months...
It sure has been a while since my last post, let me tell you I have been super busy.  Although this has been one of the worst winters (weather wise) in years, I am still loving it!  I would share the number of days I have skied so far, but I would hate to jinx it now.  The majority of my winter break was spent skiing, driving, hot tub poaching and sleeping.  If I wasn't spending my nights in...
6 tags
2 tags
Watch
Last season, Karl Lipsky, Tammy G. and myself made the trip up to Sunday River for the Red Bull "Super Hit" contest. I did not compete due to my knee, but Karl was killing it all day and was truly the most consistent skier competing.  Anyways, once the end of the day rolled around and the lifts closed, I spotted this guard rack nested in the snowbank alongside the parking lot.  It was...
1 tag
3 tags
2 tags
3 tags
Watch
  Looney Boones Vol. 1 During this past 2010/11 winter season I was fortunate enough to ski 80+ days while attending the University of New Hampshire as a full time student.  Since I was coming off an ACL and meniscus surgery, I was unsure how the knee would hold up.  Here are some shots I was able to get.. Enjoy!